Primary
We help pupils at this stage to discover their full potential, make sense of the world around them, respect differences, live in harmony, develop teamwork habits,
resolve conflicts peacefully, and overcome difficulties creatively.
New methods
We have implemented a project exploring new methods that extends and updates the range of different methods used in class with teaching approaches that are consistent with 21st century needs.
Bilingual teaching
English is taught as a language and as tool for acquiring knowledge. Our bilingual project begins in Year 1 in Primary. Classes are held in English in Natural Sciences, Social Sciences, Physical Education and Art.
There has been a significant increase in the presence of native English teachers in the classroom.
Shared learning
The diversity of courses and ages enables us to arrange activities across the different years, which enriches the learning process for both younger and older pupils alike.
Personal development and emotional education
We cultivate the management of emotions and personal development as a way of understanding oneself through different activities throughout the year.
We want our pupils to learn to relate to other people and the world around them.
The richness of diversity
Our pupils are unique and diverse. Diversity enriches us all. It enables our pupils to acquire the skills they need for life, such as the acceptance of difference, collaboration, and respect for everyone.
Education in values
Education in values is an ever-present feature of school life, as the backbone of our pupils' comprehensive education.
Tolerance, solidarity, justice, compassion, respect, endeavour, and generosity are the hallmarks of their lives at school.
Pastoral care
Our pastoral project channels the initiatives and activities through which we instil Ignatius of Loyola's values and explain the figure of Jesus of Nazareth as the cornerstone
of the Christian education we provide.
Encouraging reading
We foster a love of reading through such motivating activities as storytelling, puppets, reading during the break, etc.
Library
e have a lending library suited to the children's age, where we are assisted by parents.
We encourage children to discover the wonder of books and reading in a setting that is magical, motivating and suited to their world.
Drama
We have introduced drama as a distinctive feature, one full of opportunities that provides value added for our pupils' comprehensive education.
◉◉◉◉◉◉◉◉◉◉
/ Choose
Timetable in Primary
| | | |
| --- | --- | --- |
| | MORNING | AFTERNOON |
| START | 9,00 | 15,00 |
| FINISH | 12,30 | 17,00 |
Exams
FIRST TERM
| | |
| --- | --- |
| ASSESSMENT PERIOD | 6 September – 5 December |
| ISSUE OF REPORTS | Friday, 21 December |
SECOND TERM
| | |
| --- | --- |
| PERÍODO DE EVALUACIÓN | 10 December – 8 March |
| ISSUE OF REPORTS | Friday, 22 March |
THIRD TERM
| | |
| --- | --- |
| ASSESSMENT PERIOD | 25 March – 7 June |
| ISSUE OF REPORTS | Friday, 21 June |
| REVIEWS AND RE-MARKING | 24, 25 and 26 June |
Teaching Staff in Primary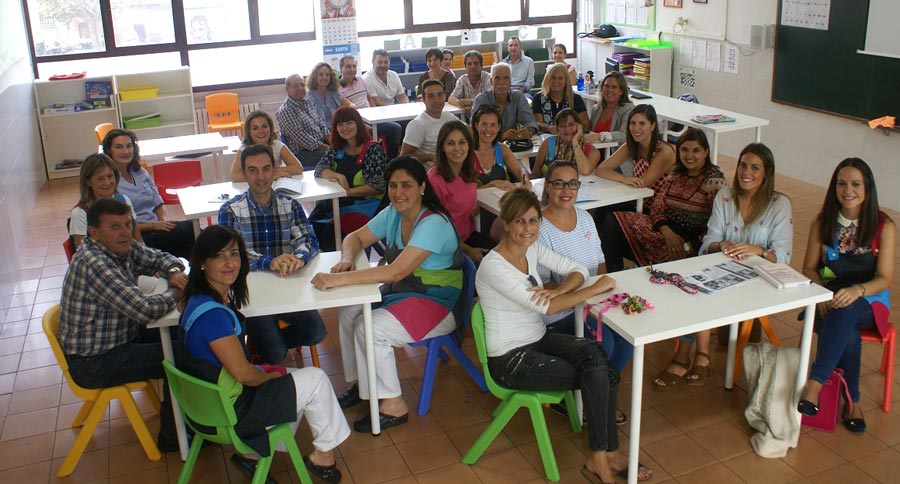 Management Structure in Primary
| | |
| --- | --- |
| Principal | Rubén Pérez Lázaro |
| Director of Studies | Mónica Corral |
| Counsellor | Teresa Fudio |
| Coordinator Years 1 and 2 | Mª Ángeles Lafuente |
| Coordinator Years 3 and 4 | Juan Ramón Jiménez |
| Coordinator Years 5 and 6 | Mº Pilar Montes |
| Coordinator of Bilingual Studies | Mónica Benito |
| Coordinator of Pastoral Studies | Ana Pérez |
| Coordinator of Out-of-School Activities | Israel Ajamil |